Oxford Jewish Society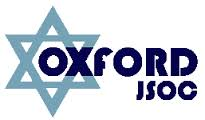 Oxford Jewish Society (JSoc) is the social, cultural and religious home for Jewish students in Oxford of all denominations.
We serve fully Kosher two-course dinners every weekday, lovingly prepared by our JSoc cook, Sue. Every Friday (including 0th and 9th weeks) we host special themed three-course Friday night dinners with drinks and entertainment, 6.30pm until late, at no more than £3 a head – cheaper than hall!
We also run discounted cocktail nights and club nights, bagel brunches and traditional dancing celebrations for festivals ('Jewbilation'), as well as taking part in charity fundraising for Oxford's homeless by baking challah bread each term.
Most JSoc events are held at the OJC, which is just behind Earl Building on Richmond Road, so Worcester is ideally placed for taking advantage of all JSoc has to offer!
For more information, join the Facebook group 'Oxford Jsoc' here: https://www.facebook.com/groups/OxfordJsoc
And sign up to the newsletter here: http://www.oxfordjsoc.co.uk/jsoc/index.php?Itemid=44
Or email Manuella at presidents@oxfordjsoc.co.uk with any questions.